The XBox One is Microsoft's Flagship console. With the recent release of the XBox One X they have amplified competition by delivering smoother 4K HDR footage to gamers all over the world. However to get the most out of your console you need to ensure you download XBox one game updates when available.
Overtime Developers and publishers will release patch updates for your very best games. These updates will sometimes fix faults, provide new content to game, unlock additional extras and most importantly ensure your games are stable.
Microsoft will continue to update the foundations of the XBox One by upgrading the available firmware. So it's imperative that you stay up to date and download the latest updates.
---
Download XBox One Game Updates Today!
How To Download The Latest XBox One Game Updates.
The Good news is XBox One have made it incredibly easy to stay up to date with all your latest games. When browsing the XBox One Desktop if you're internet connection is stable the console will attempt to download any available updates for your games.
For this to happen you need to ensure that your games are installed and available within your system files.
Guide : Ensure your Internet Connection is Stable To Download
You can also force a update of your XBox One console by visiting the system settings.
1: Use Dashboard Button On Controller
2: Toggle to "System"
3: Click "Settings"
This will now take you to the main XBox One Settings.
1: Toggle to "System"
2: Click "Updates"
This will automatically scan for the latest Updates. If any updates are available you will be prompted to download them. Ensure you have enough Hard Drive space to complete this.
On this screen it's also important to ensure "Keep my console up to date" is ticked and marked. This will further allow your console to constantly search for newer firmware updates.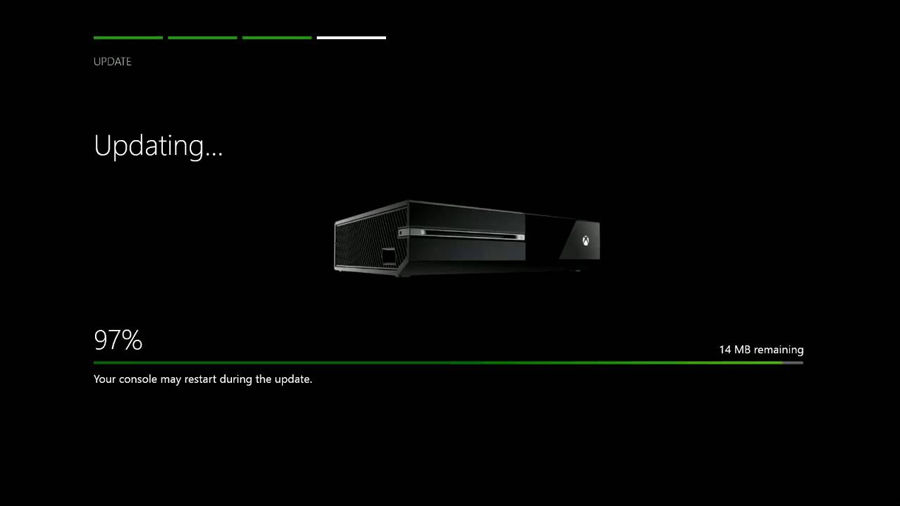 Checking for the Latest Update for Games.
If you're running an older version of a game then you may encounter various game bugs such as stuttering, crashing, audio issues and more.
You can easily check with the developers on their social networks.They will often release patch notes and update lists of all changes made to games.
Be sure to check that your current game version is running the latest update to avoid any difficulties.
---
My XBox One Game Wont Update.
If your XBox One has informed you that there is an available update for a game. However you've started the download but your Console wont download the update then there are a few things you can try to resolve the issue.
Do you have the required Space?
Sometimes overlooked. It's important to make sure that your XBox one currently has enough space for the patch and download. If you have insufficient space the download will warn you and may not start.
Guide : How To Free Space on Your XBOX One.
You can simply free up space by deleting older unused game saves and installation files.
Ensure your Internet Connection is stable.
Very often a break in internet connection can cause a patch download or update to fail. The reason this happens is due to :  while downloading the data is damaged and may result in a corrupt game file.
We've got an intensive guide which details how to ensure that your internet connection is strong. Be sure to check it out.
Guide : Test Your Internet Connection Right Now!
If you find that your Internet is stable and is not causing any issue then the problem may be server side or a fault with your console.
Try Re-Installing the game To Fix XBox One Updates.
If your XBox one game is still not downloading or starting then you can easily try to re-install the game. This will delete all your system files of that game however once you re-install you will be working with fresh data.
Your XBox One console will then attempt to download the latest update once installed.
Guide : How to Manually Re-Install Your Games on XBox One.
If during this process you have not fixed the problem then this may indicate that the fault is either with your Hard Drive or a server side issue with the game.
You can identify if your Hard Drive is faulty by following these easy steps.
The Game Servers are Down?
When Developers release updates usually this will trigger a high amount of traffic downloading the same files. Some game servers may struggle with this. If your game is constantly stuck and not downloading then it may be an idea to wait a short while.
Simply try the download again later within the day.
If you strongly believe that it maybe your console at fault then you can simply seek a repair or replacement on your warranty to fix the issue.
---
Conclusion
We hope these guides may have helped you download the latest updates that you require for your games. It's imperative that you download updates regularly.
If you're not running the latest patch on specific games then you will not have access to a large amount of online services due to version miss-matches.
If you're running the latest update but you're still having problems with your XBox One not loading your games. Then be sure to check the following guides:
XBox One Guides:
Remove Game Files & Factory Resetting Your XBox One.
Is your XBox One Hard Drive Damaged or Corrupt?
Get The most out of your XBox One Connection.
Stop your XBox One From Overheating.
Universal Guides:
Fix Your Games & Repair Scratched Discs.
The Easiest ways to Fix Laser Burn Revealed.
Protect Your Data from being Corrupted.
What Does your Warranty on Games & Consoles Cover.
Ping & Connection Guides:
Best Internet Provider for Gaming 2018.
Test Your Internet Connection and Improve Your Speed.
[the_ad id="6731"]