The PlayStation 4 is going from strength to strength. From it's earlier Release back in 2013 to the recent release of the PlayStation 4 Pro. Now with the ability to output beautifully up scaled 4K and HDR footage. Also with an incredible line of exclusives it's important that you keep your PS4 current with all the latest updates.
Sony and other Game Developers will continue to release firmware updates for the PlayStation Operating System. This does not just include fix patches but also additional content and features.
In this guide we will be talking about ways in which you can ensure that your PlayStation 4 stays current. We will also be looking at forcing updates for your latest game and then troubleshooting reasons on why your PS4 may not be updating.
---
Download the Latest PlayStation 4 Gaming Updates.
How To Download The Latest Play Station 4 Console Updates.
The PlayStation 4 is a strong piece of kit and the foundation that it is built on is even stronger. When we say foundations we're talking about the software that Sony have developed. The Operating System will automatically attempt to source all the latest updates for your PlayStation 4 Console.
However if you believe your not console is updating or you have automatic update turned off. Here's the details on how to force a PlayStation 4 Update.
Guide : Ensure your Internet Connection is Stable To Download
You can also force a update of your PS4 One console by visiting the system settings.
How to Turn On Automatic Updates for PlayStation 4.
Firstly Return to your PlayStation 4 Dashboard Page.
1: Visit Settings
2: System.
3: Automatic Downloads.
Ensure the tick box is checked next to "Application Update Files"
This will automatically scan for the latest Updates. If any updates are available you will be prompted to download them. Ensure you have enough Hard Drive space to complete this.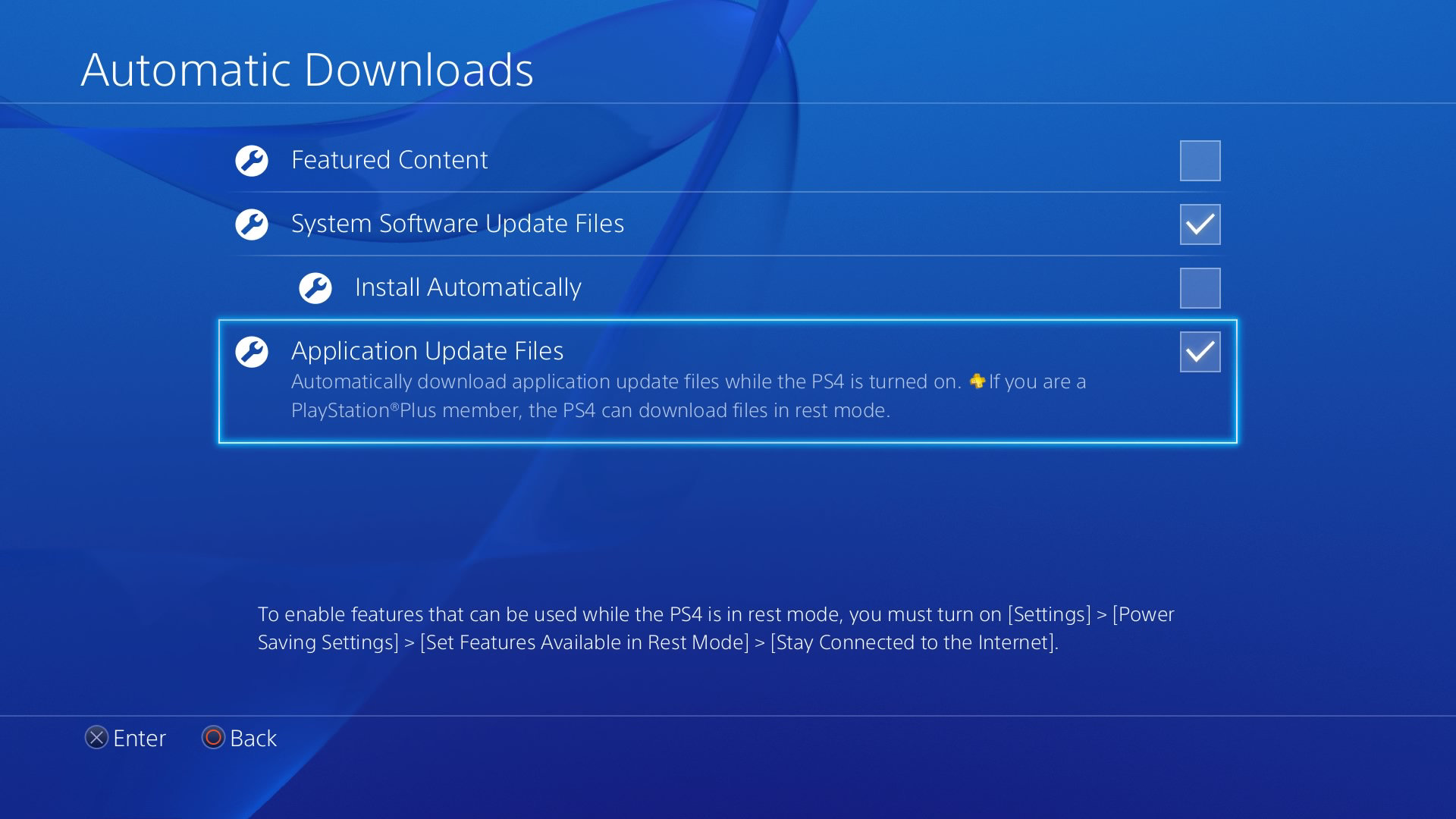 Why You Should Run The Latest PS4 Game Updates.
Developers overtime will not only release content patches for their games but also significant bug fixes.
If you are running a previous version of a game that you're currently playing. Not only will you encounter version missmatch errors. But you may be playing an unstable version of the game.
Game Developers and Publishers are quite open about the updates that their releasing. So if you're worried your not running the latest update. Attempt the update fix above. Alternatively you can reach out to them on their social networks to stay up to date.
---
PlayStation 4 Failing To Update?
There are a few reasons on why your PlayStation 4 might fail to update. If your console has informed you that an update is required but it is not downloading or failing to install read the below fixes that might help.
Do you have the required Space?
Update files aren't normally that big unless they contain large content expansions. However it's imperative to ensure that your Storage Space on your PS4 Console is not maxed out. You need to allow for optimal room for both the game and update.
Guide : Increasing your Storage Size on your Playstation 4.
Use the above guide which details some tips and tricks on how you can become even more resourceful with your current Play Station 4 Storage Size.
Is your Internet Connection Stable?
Is your update failing to download or reaching a certain % on installation and failing? This more than likely indicates a fault in your internet connection. During download if any kind of disruption effects your internet then the current download will cease.
Ensure that your Internet connection is stable while completing any downloads. Failure to do so may result in corrupt and damaged update files.
Guide : Test Your Internet Connection Right Now!
The above guide features an intensive guide on how to test your current internet connection, improve it if necessary and ways you can isolate the fault.
---
Are your PlayStation 4 Files Corrupt?
If the update in question which is failing to either download or install is related to a game. Then the issue may lay with your current PlayStation 4 game files. During Installation of any Game on the PlayStation 4 a sub directory for that game will be created.
Any corrupted or damaged data files may result in updates failing or the game simply not booting for you.
Guide : How to Manage your Games & Software on PlayStation 4.
You can easily solve this by re-installing the current game and starting from a blank canvas. If you're unsure on how to uninstall a PlayStation 4 Game then read the guide above for details on how to manage your software.
During this process if any data files fail to install then it may indicate a fault with your hard drive on your PlayStation 4.
Fix : Is your PlayStation 4 Hard Drive Damaged?
Luckily enough changing a PlayStation 4 Hard Drive is pretty easy and does not void your warranty.
---
The PlayStation Game Servers are Down?
It maybe possible that despite your Console informing you that an update is available. If your Internet connection is stable and there are no faults with your Hard Drive.
Advice : Reach out to Sony and inform them of your Issue.
It maybe a possibility that the Game Servers are struggling. For this we simply recommend to play another game during this time and wait for the development team to solve the issue. You can also reach out to them on their social networks to query any issues with their servers.
---
Conclusion
We hope these guides may have helped you download the latest files necessary for your PlayStation 4.
We have listed some similar Hardware Guides that might benefit you in your journey to resolve the issue you may be having with your PlayStation 4 or Games.
PlayStation 4
Complete PlayStation 4 Internet Setup Guide.
PlayStation 4 Overheating Fix.
How to Factory Reset Your PlayStation 4.
PlayStation 4 Hard Drive Corrupt? How To Fix.
Universal Guides:
Fix Your Games & Repair Scratched Discs.
The Easiest ways to Fix Laser Burn Revealed.
Protect Your Data from being Corrupted.
What Does your Warranty on Games & Consoles Cover.
Ping & Connection Guides:
Best Internet Provider for Gaming 2018.
Test Your Internet Connection and Improve Your Speed.
[the_ad id="6731"]