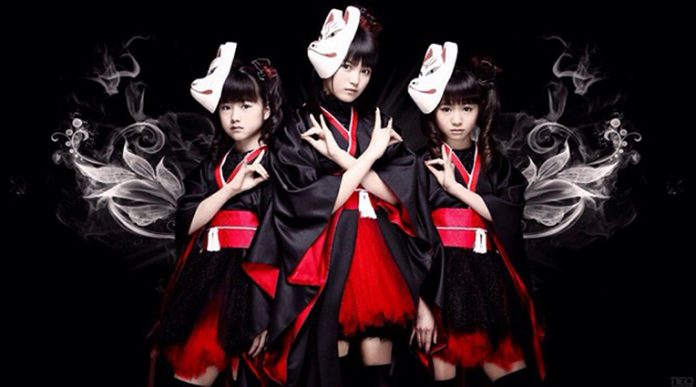 When the Japanese metal band BABYMETAL went viral in 2013, you would be hard pressed to find a metal fan who did not have an opinion of the kawaii metal group. Fronted by teenage singers and dancers, Yui Mizuno (Yuimetal), Suzuka Nakamoto (Su-Metal) and Moa Kikuchi (Moametal), the band fuses J-Pop and heavy metal together to create a new 'born' form of metal. While receiving criticism for being a manufactured band, 'gimicky' or at worst 'not real metal' by some heavy metal purists; BABYMETAL have also received a hugely positive reception from fans, most recently at the recent Sonisphere Festival in Knebworth.
Their recent sold out show at the Kentish Town Forum in London was a perfect example of this positive reception. Originally booked for the much smaller 1,100 person capacity Electric Ballroom, the band was forced to expand to the larger 2,100 space after popular demand. Upon arriving at the venue, the crowd reached back over two blocks as they queued to watch the Japanese sensation perform. The wonderful thing about the crowd was the mix of die hard metal fans ranging to self-confessed Japan-ophiles and anime fans. It was the perfect mix of rock festival and comic book convention.
The venue itself was very spacious and welcoming with courteous staff and a beautiful classical stage adding a Gothic feel to the event which only served to compliment the moody entrance music. This mood was soon interrupted by tongue in cheek fun as a screen appeared with Star Wars style ascending writing telling a tale of three chosen girls who were proclaimed by the Fox God to create a new form of metal. It even guest starred the 'metal master' Eddie which caused a ripple of laughter in the crowd. If they had known how much they were going to smile in this concert, this could have been seen as a simple warm up.
The explosion of music marking the entrance of the band, as the video screen sheet dropped to reveal them behind it, was electric, and the song itself called for the crowd to chant BABYMETAL before the girls actually took the stage. The girls were energetic, professional and contagiously happy with fun dance moves, catchy audience participation and vocals ranging from cute and high pitched to powerful and incredibly well ranged. Su-Metal's balladic performances were captivating, especially 'Rondo of A Nightmare' which proved her spectacular range, though the lower bass notes seemed occasionally lost over the PA, her higher notes were clear and commanding.
Moametal and Yuimetal were relentless in their energy and took to the stage for a couple of duet dances and songs proving that they could hold their own against Su-Metal's strong vocals. Whilst their vocals are weaker, they make up for it in high octane performance, comedic flair and contagious fun. Taking to the stage in skeleton hoodies which they flipped on and off with gangster-esque choreography, these two managed to ooze fun whilst also remaining professional and owning the stage in a way many veteran front men would be envious of.
Melding different musical influences such as hip-hop in 'Iine!' and even reggae in some break downs in 'Song 4' (with a true Rastafarian lighting change to yellow, green and red), this was by far one of the most unique and fun metal concerts I have ever attended. Indeed, it was difficult to spot a single member of the crowd who broke their smiles from intro to finish. It helps the cause when all of BABYMETAL's songs have such fun and positive lyrics, from anti-bullying to simply wanting chocolate, they manage to cater to the kawaii audience as well as the metal and that is quite a large gap to bridge.
Any sceptics of the band's talents were quickly put to shame as the musicians managed to show their epic talents through ripping solos and complicated riffs. Some may be under the misconception from the heavily synthesised album, that this band may not sound as good live as they do after studio production, but this was soon dispelled when we saw the Kami band perform. Made up of different Japanese musicians (depending on availability), the band wore ghostly Kabuki style make up and white robes befitting their 'Godly' status as the 'Gods of Metal'. They certainly lived up to this title as they broke into their solos, the guitarists seamlessly making way for one another and probably one of the best bass solos I have ever seen.
For a metal band to bridge the gap between rock and pop fans so early in their career; being signed as the opening act for Lady GaGa's 'artRave: The artPop Ball' tour while also appearing at Sonisphere festival 2014 alongside rock royalty such as Iron Maiden and Metallica, is quite an achievement. One which, after seeing them perform to their sell-out crowd at The Forum, they have definitely earned.
It would be simple to think of BABYMETAL as a gimmick, but their showmanship, presence and talent busts them out of this box and propels them into a completely new box that they have created for themselves. The band members and front-women shared the stage with respect and professionalism, each taking their own unique moments to show off their skills to the crowd, proving that this is a grouping of talented individuals rather than some thrown together manufactured mess. This is a well honed show of theatricality, fun and talent and I for one cannot wait to see what they do next.
Did you manage to catch BABYMETAL at Sonisphere Festival or The London Forum? Let us know what you thought of their performance in the comments below. Or visit us on Facebook or Tweet using #ChaosHour to share your photos, videos and opinions.
[the_ad id="6731"]