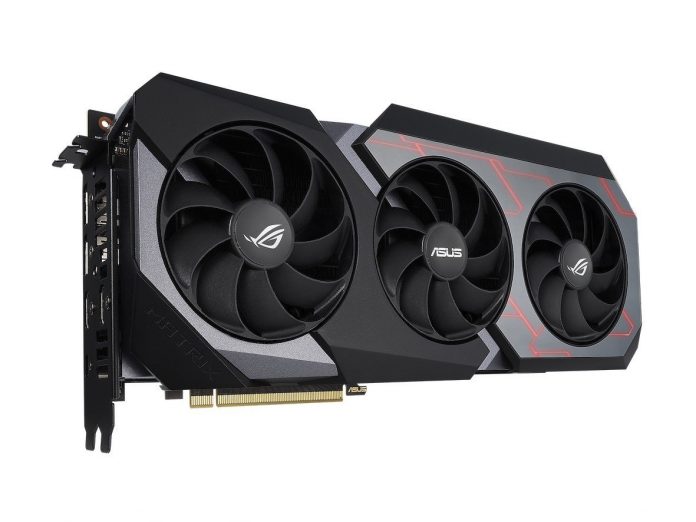 Asus have pulled out all of the stops this year by revealing it's flagship GPU. A brand new Geforce ROG Matrix RTX 2080 Ti. This announcement comes during CEX 2019 a world known hardware event.
We're excited for the next generation of Graphics Cards however there is some doubt that the investment is worth it due to some interestingly close benchmark results.
---
News From The Source.
"Asus has pulled the wraps off its flagship GPU at CES 2019; the liquid-and-air cooled GeForce ROG Matrix RTX 2080 Ti. The company reserves the Matrix branding for only its extreme high-end GPUs, and this one is certainly worthy of that title.
The GPU sandwiches a closed-loop cooling apparatus dubbed Infinity Loop between the PCB and a three fan array, with the liquid handling the cooling of the GPU and memory, and the fans cooling the radiator and VRMs."
"Asus bins and tests its RTX 2080 Ti Strix GPUs, then sets the top five percent aside for inclusion in the Matrix model. The spec sheet says it features a Boost Clock of 1,815MHz, which is 150MHz higher than its Strix GPUs. All this horsepower requires a bit more juice than a stock RTX 2080 Ti, and Asus lists its power consumption at 300w, which is 40w more than the Founder's Edition." – IGN
---
Conclusion
Will you be grabbing yourself a new 2080 this year? If so the Asus catalogue is looking pretty impressive and is definitely one that we would consider.
[the_ad id="6731"]