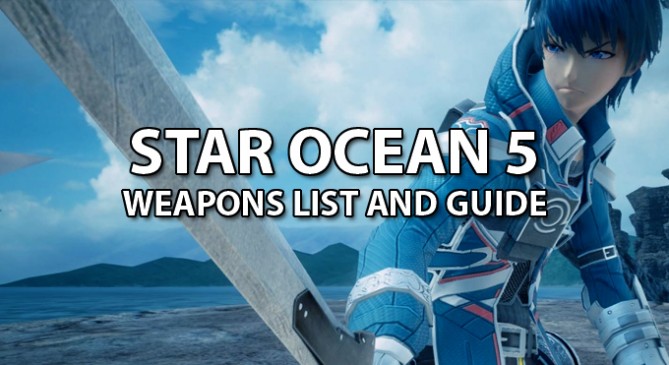 Weapons & Equipment play a huge part of Star Ocean Integrity and Faithlessness. Throughout the game you will encounter characters and various enemies which will grant you access to a huge arsenal of different weapons and tools. However only Weapons which are usable by your characters can be obtained.
Each Character is restricted to a certain weapon class. Fidel stands strong at the front line with Swords, The adorable Miki unleashes powerful magic with her Magic Staffs. Victor takes the fight to the enemy with his devastating Sabers. Fiore enchants the galaxy with her Magic Orbs. Emmerson destroys the enemy at range with his collection of crossbows and guns. While finally Anne gets close and personal with her knuckles.
Each character excels in certain traits depending on their weapons. Also some weapons themselves grant the users certain advantages. Such as elemental based attacks, increased attributes and special abilities. Below is a comprehensive guide on all of the stats of the weapons available within the game. It also lists the value of each weapon as well as where to find each weapon within the game.
Happy Hunting Fellow Guardians!
SWORDS / FIDEL
Weapon: Longsword
Type: Sword
Value:  200
Stats:  ATK 20  INT 0 DEF 0  AUGMENT 3
Where To Find / How To Craft:  Shops, Synthesis
Weapon: Broadsword
Value:  600
Stats:  ATK 50  INT 0  DEF 0  AUGMENT 6
Where To Find / How To Craft: Shops, Synthesis
Weapon: Falchion
Value:  1000
Stats:  ATK 100  INT 0  DEF 0  AUGMENT 0
Element:  Damage To Plants +20%
Where To Find / How To Craft: Shops, Loot, Synthesis
Weapon: Storm Blade
Value:  1250
Stats:  ATK 120  INT 10  DEF 0 AUGMENT 4
Element: Wind
Where To Find / How To Craft: Crafted
Weapon: Bastard Sword
Value:  2500
Stats:  ATK 180  INT 0  DEF 0  AUGMENT 7
Where To Find / How To Craft: Shops, Synthesis
Weapon: Blessed Sword
Value:  1500
Stats:  ATK 150  INT 20 DEF 0  AUGMENT 6
Element: Life
Where To Find / How To Craft: Shops, Loot
Weapon: Ceramic Sword
Type: Sword
Value:  3500
Stats:  ATK 200  INT 0  DEF 0  AUGMENT 6
Where To Find / How To Craft: Shops, Synthesis
Weapon: Walloon Sword
Value:  5000
Stats:  ATK 240  INT 0  DEF 0 AUGMENT 7
Where To Find / How To Craft: Shops, Synthesis
Weapon: Venom Sword
Value:  6000
Stats:  ATK 250  INT 40  DEF 0 AUGMENT 4
Element:  +5% Poison on Attack
Where To Find / How To Craft: Item Crafted
Weapon: Moonfalx
Value:  7000
Stats:  ATK 300  INT 0  DEF 0  AUGMENT 6
Where To Find / How To Craft: Shops, Loot, Synthesis
Weapon: Flamberge
Value: 9000
Stats:  ATK 380  INT 0  DEF 0 AUGMENT 7
Where To Find / How To Craft: Shops, Synthesis
Weapon: Insignivon
Value:  15000
Stats:  ATK 400  INT 0  DEF 0 AUGMENT 12
Element:  Fill Reserve Gauge Faster
Where To Find / How To Craft: Synthesis
Weapon: Titan's Nail
Value:  20000
Stats:  ATK 250  INT 40  DEF 0 AUGMENT 4
Where To Find / How To Craft: Shops
Weapon: Icicle Sword
Value:  30000
Stats:  ATK 450  INT 80  DEF 0 AUGMENT 5
Element:  +30% Ice Damage
Where To Find / How To Craft:  Item Crafted, Synthesis
Weapon: Mythril Sword
Value:  40000
Stats:  ATK 600  INT 0  DEF 0 AUGMENT 8
Where To Find / How To Craft: Shop, Item Crafted
Weapon: Arcana Sword
Value: 50000
Stats:  ATK 600  INT 40  DEF 0 AUGMENT 8
Element:  +5% Poison on Attack
Where To Find / How To Craft: Treasure Chest, Crafted
Weapon: Veinslay
Value:  6000
Stats:  ATK 900  INT 40  DEF 0 AUGMENT 6
Element:  +5% DEF
Where To Find / How To Craft: Synthesis
Weapon: Farwell
Value:  80000
Stats:  ATK 1400  INT 120  DEF 0 AUGMENT 4
Element:  Life
Where To Find / How To Craft: Treasure, Synthesis
Weapon: Aurora Blade
Value:  90000
Stats:  ATK 2000  INT 200  DEF 0 AUGMENT 4
Element:  HP + 7% On Equip
Where To Find / How To Craft: Treasure Chest, Item Crafted, Synthesis
Weapon: Levantine
Value:  100000
Stats:  ATK 2400  INT 400  DEF 0 AUGMENT 7
Element:  +10% Attack
Where To Find / How To Craft: Enemy Drop, Synthesis
STAFFS / MIKI
Weapon: Petaline Wand
Value:  160
Stats:  ATK 10  INT 15  DEF 0  AUGMENT 3
Element:  Spell Strength +5%
Where To Find / How To Craft: Shops, Synthesis
Weapon: Rod Of Jewels
Value:  400
Stats:  ATK 20  INT4 0  DEF 0  AUGMENT 6
Where To Find / How To Craft: Shops, Synthesis
Weapon: Crescent Rod
Value:  800
Stats:  ATK 50  INT 90  DEF 0  AUGMENT 6
Element:  Damage To Plants +20%
Where To Find / How To Craft: Shops, Synthesis
Weapon: Ruby Wand
Value:  1000
Stats:  ATK 60  INT 110  DEF 0  AUGMENT 0
Element:  Fire Damage +10%
Where To Find / How To Craft: Weapon Crafted
Weapon: Cordon Scepter
Value:  2000
Stats:  ATK 90  INT 170  DEF 0  AUGMENT 6
Where To Find / How To Craft: Shops
Weapon: Booster Wand
Value:  2800
Stats:  ATK 110  INT 210  DEF 0  AUGMENT 6
Where To Find / How To Craft: Shops
Weapon: Rune Wand
Value:  4000
Stats:  ATK 130  INT 250  DEF 0  AUGMENT 7
Element:  Damage To Plants +20%
Where To Find / How To Craft: Shops
Weapon: Floral Brume Wand
Value:  4800
Stats:  ATK 140  INT 270  DEF 0  AUGMENT 4
Element:  Life – +Fog Chance +5%
Where To Find / How To Craft: Weapon Crafted
Weapon: Sacred Scepter
Value:  5600
Stats:  ATK 160  INT 300  DEF 0  AUGMENT 6
Where To Find / How To Craft: Shops
Weapon: Crystal Wand
Value:  7200
Stats:  ATK 190  INT 380  DEF 0  AUGMENT 7
Where To Find / How To Craft: Shops
Weapon: Resonance Staff
Value:  16000
Stats:  ATK 220  INT 440  DEF 0  AUGMENT 7
Where To Find / How To Craft: Shops, Loot, Synthesis
Weapon: Amber Mace
Value:  24000
Stats:  ATK 210  INT 440  DEF 0  AUGMENT 5
Element:  Earth Damage +30%
Where To Find / How To Craft: Shops, Loot, Synthesis
Weapon:  Mythril Rod
Value:  32000
Stats:  ATK 300  INT 560  DEF 0  AUGMENT 8
Where To Find / How To Craft: Shops, Treasure Chest, Weapon Crafted
Weapon: Adept's Staff
Value:  40000
Stats:  ATK 400  INT 740  DEF 0  AUGMENT 6
Where To Find / How To Craft: Weapon Crafted
Weapon: Calamity Staff
Value:  48000
Stats:  ATK 450  INT 880  DEF 0  AUGMENT 6
Element:  Mana Cost -10%
Where To Find / How To Craft: Synthesis
Weapon: Asclepius
Value:  64000
Stats:  ATK 500  INT 1250  DEF 0  AUGMENT 4
Element:  Spell Strength +20%
Where To Find / How To Craft: Treasure Chest, Synthesis
Weapon: Apocalypse
Value:  72000
Where To Find / How To Craft: Treasure Chest, Weapon Crafted
Weapon: Mindhealer
Value:  80000
Stats:  ATK 700  INT 2400  DEF 0  AUGMENT 7
Element:  Life – Max Mana +15%
Where To Find / How To Craft: Synthesis
SABERS / VICTOR
Weapon: Wooden Sword
Value:  100
Stats:  ATK 10  INT 0  DEF 0  AUGMENT 16
Element:  EXP +20%
Where To Find / How To Craft: Shops, Synthesis
Weapon: Knight's Saber
Value:  600
Stats:  ATK 55  INT 0  DEF 0  AUGMENT 3
Where To Find / How To Craft: Shops, Synthesis
Weapon: Pallasch
Value:  1100
Stats:  ATK 110  INT 0  DEF 0  AUGMENT 6
Where To Find / How To Craft: Shops, Synthesis
Weapon: Sinclair
Value:  2750
Stats:  ATK 200  INT 15  DEF 0  AUGMENT 7
Where To Find / How To Craft: Shops, Synthesis
Weapon: Deadly Edge
Value:  5500
Stats:  ATK 270  INT 15  DEF 0  AUGMENT 7
Where To Find / How To Craft: Shops, Synthesis
Weapon: Rune Blade
Value:  6600
Stats:  ATK 290  INT 50  DEF 0  AUGMENT 6
Element:  Mentality +10
Where To Find / How To Craft: Weapon Crafted, Synthesis
Weapon: FarCutter
Value:  7700
Stats:  ATK 330  INT 15  DEF 0  AUGMENT 6
Where To Find / How To Craft: Shops
Weapon: Oriental Blade
Value:  9900
Stats:  ATK 390  INT 15  DEF 0  AUGMENT 7
Where To Find / How To Craft: Shops, Synthesis
Weapon: Alastor
Value:  15950
Stats:  ATK 410  INT 100 DEF 0  AUGMENT 4
Element:  Instakill Chance +1%
Where To Find / How To Craft: Treasure Chest, Synthesis
Weapon: Amalgametal Blade
Value:  22000
Stats:  ATK 450  INT 0  DEF 0  AUGMENT 7
Where To Find / How To Craft: Shops
Weapon: Searing Sword
Value:  33000
Stats:  ATK 460  INT 150  DEF 0  AUGMENT 4
Element:  Fire Damage + 30%
Where To Find / How To Craft: Weapon Crafted, Synthesis
Weapon: Silvance
Value:  44000
Stats:  ATK 620  INT 0 DEF 0  AUGMENT 8
Where To Find / How To Craft: Shops, Weapon Crafted
Weapon: Dojikiri-Yasutsuna
Value:  55000
Stats:  ATK 840  INT 0  DEF 0  AUGMENT 6
Element:  +20% Against Humanoids
Where To Find / How To Craft: Treasure Chest, Weapon Crafted
Weapon: Crimson Scourge
Value:  66000
Stats:  ATK 950  INT 0  DEF 0  AUGMENT 6
Where To Find / How To Craft: Synthesis
Weapon: Chrome Nightmare
Value:  88000
Stats:  ATK 1450  INT 0  DEF 0  AUGMENT 4
Element:  Dark – Absorb 1% Mana
Where To Find / How To Craft: Treasure Chest, Synthesis
Weapon: Murasame
Value:  99000
Stats:  ATK 2100  INT 0  DEF 0  AUGMENT 8
Element:  Ice – Critical Hit +15%
Where To Find / How To Craft: Treasure Chest, Weapon Crafted
Weapon: Ama-No-Murakumo
Value:  110000
Stats:  ATK 2500  INT 0  DEF 0  AUGMENT 7
Element:  Mentality +10%
Where To Find / How To Craft: Synthesis
 MAGIC ORB / FIORE
Weapon: Terrestrial Globe
Value:  100
Stats:  ATK 0  INT 10  DEF 0  AUGMENT 16
Where To Find / How To Craft: Weapon Crafted, Synthesis
Weapon: Refulgent Orb
Value:  1250
Stats:  ATK 25  INT 100  DEF 0  AUGMENT 3
Where To Find / How To Craft: Shops
Weapon: Gelid Orb
Value:  1850
Stats:  ATK 500  INT 150  DEF 0  AUGMENT 5
Element:  Ice – Ice Damage +10%
Where To Find / How To Craft: Shop
Weapon: Conflagrant Soul
Value:  3200
Stats:  ATK 60  INT 180  DEF 0  AUGMENT 4
Where To Find / How To Craft: Ships,  Weapon Crafted
Weapon: Mekhanesphere
Value:  4400
Stats:  ATK 90  INT 220  DEF 0  AUGMENT 7
Where To Find / How To Craft: Weapon Crafted, Synthesis
Weapon: Synsylph Orb
Value:  6250
Stats:  ATK 100  INT 260  DEF 0  AUGMENT 7
Where To Find / How To Craft: Weapon Crafted, Synthesis
Weapon: Star Flail
Value:  7500
Stats:  ATK 120  INT 280  DEF 0  AUGMENT 4
Element:  Stun Chance +5%
Where To Find / How To Craft: Weapon Crafted, Synthesis
Weapon: Corvine Orb
Value:  8750
Stats:  ATK 150  INT 320  DEF 0  AUGMENT 5
Element:  Damage +20% to Insects
Where To Find / How To Craft: Shops, Synthesis
Weapon: Marmoreal Sphere
Value:  11250
Stats:  ATK 170  INT 380  DEF 0  AUGMENT 7
Where To Find / How To Craft: Shops
Weapon: Vatic Looking Glass
Value:  18200
Stats:  ATK 180  INT 400  DEF 0  AUGMENT 6
Element:  +1% Silence Chance
Where To Find / How To Craft: Weapon Crafted, Synthesis
Weapon: Orb of Antiquity
Value:  37500
Stats:  ATK 250  INT 600  DEF 0  AUGMENT 8
Element:  Stun Chance +5%
Where To Find / How To Craft: Weapon Crafted, Synthesis
Weapon: Sybilline Orb
Value:  25000
Stats:  ATK 190  INT 420  DEF 0  AUGMENT 7
Where To Find / How To Craft: Shops
Weapon: Infernal Glaze
Value:  50000
Stats:  ATK 200  INT 459  DEF 0  AUGMENT 6
Element:  Dark Damage + 30%
Where To Find / How To Craft: Shops, Treasure Chest, Weapon Crafted
Weapon: Armillary Sphere
Value:  62500
Stats:  ATK 300  INT 800  DEF 0  AUGMENT 6
Element:  MP + 100
Where To Find / How To Craft: Weapon Crafted
Weapon: Sacrosanct Orb
Value:  75000
Stats:  ATK 350  INT 900  DEF 0  AUGMENT 6
Element:  Life Elemental
Where To Find / How To Craft: Synthesis
Weapon: Carbuncle's Prison
Value:  100000
Stats:  ATK 400  INT 1300  DEF 0  AUGMENT 4
Element:  Fol +50%
Where To Find / How To Craft: Treasure Chest, Synthesis
Weapon: Dragon's Den
Value:  112500
Stats:  ATK 500  INT 1900  DEF 0  AUGMENT 8
Element:  Max MP + 7%
Where To Find / How To Craft: Locked Chest, Item Creation
Weapon: Aether-In-Stasis
Value:  125000
Stats:  ATK 600  INT 2500  DEF 0  AUGMENT 7
Element:  Stun Chance +5%
Where To Find / How To Craft: Synthesis
CROSSBOW & GUNS / EMMERSON
Weapon: Squirt Gun
Value:  100
Stats:  ATK 10  INT 0  DEF 0  AUGMENT 16
Where To Find / How To Craft: Synthesis
Weapon: Short Crossbow
Value:  1500
Stats:  ATK 130  INT 0  DEF 0  AUGMENT 3
Where To Find / How To Craft: Shop, Synthesis
Weapon: Hunting Bow
Value:  2700
Stats:  ATK 160  INT 0  DEF 0  AUGMENT 6
Element:  Avians Damage +20%
Where To Find / How To Craft: Shops, Synthesis
Weapon: Microblaster
Value:  3700
Stats:  ATK 200  INT 0  DEF 0  AUGMENT 6
Where To Find / How To Craft: Shops
Weapon: Wild Arc
Value:  5250
Stats:  ATK 230  INT 0  DEF 0  AUGMENT 7
Where To Find / How To Craft: Shops
Weapon: Williwaw Bow
Value:  6300
Stats:  ATK 250  INT 30  DEF 0  AUGMENT 4
Element:  Wind – Damage To Machines +20%
Where To Find / How To Craft: Treasure Chest, Weapon Crafted, Synthesis
Weapon: Composite Bow
Value:  7350
Stats:  ATK 290  INT 0  DEF 0  AUGMENT 6
Element:  ATK +5
Where To Find / How To Craft: Shops, Synthesis
Weapon: Homing Arc
Value:  9450
Stats:  ATK 350  INT 0  DEF 0  AUGMENT 7
Where To Find / How To Craft: Shops, Synthesis
Weapon: Atrementous Usurper
Value:  15250
Stats:  ATK 370  INT 60  DEF 0  AUGMENT 4
Element:  Dark Elemental
Where To Find / How To Craft: Treasure Chest, Weapon Crafted, Synthesis
Weapon: Hunting Bow
Value:  21000
Stats:  ATK 400  INT 0  DEF 0  AUGMENT 6
Where To Find / How To Craft: Shops, Synthesis, Treasure Chest
Weapon: Saint's Bow
Value:  31500
Stats:  ATK 420  INT 80  DEF 0  AUGMENT 4
Element:  Light Damage +30%
Where To Find / How To Craft: Weapon Crafted
Weapon: Sylvan Ray
Value:  42000
Stats:  ATK 550  INT 0  DEF 0  AUGMENT 8
Element:  Avians Damage +20%
Where To Find / How To Craft: Shops, Synthesis
Weapon: Straightshooter
Value:  52500
Stats:  ATK 750  INT 0  DEF 0  AUGMENT 6
Where To Find / How To Craft: Treasure Chest, Weapon Crafted
Weapon: Failnaught
Value:  63000
Stats:  ATK 850  INT 0  DEF 0  AUGMENT 6
Element:  Critical Hit + 10%
Where To Find / How To Craft: Synthesis
Weapon: Arcadian Serenity
Value:  84000
Stats:  ATK 1300  INT 150  DEF 0  AUGMENT 4
Where To Find / How To Craft: Shops, Synthesis
Weapon: Umbral Blast
Value:  94500
Stats:  ATK 1750  INT 200  DEF 0  AUGMENT 8
Element:  Dark Elemental
Where To Find / How To Craft: Treasure Chest, Weapon Crafted
Weapon: Dragon's Bellow
Value:  105000
Stats:  ATK 2100  INT 0  DEF 0  AUGMENT 7
Element:  MP Cost -20%
Where To Find / How To Craft: Synthesis
Weapon: Hunting Bow
Value:  2700
Stats:  ATK 160  INT 0  DEF 0  AUGMENT 6
Element:  Avians Damage +20%
Where To Find / How To Craft: Shops, Synthesis
KNUCKLES / ANNE
Weapon: Paws
Value:  100
Stats:  ATK 10  INT 0  DEF 0  AUGMENT 16
Where To Find / How To Craft: Synthesis
Weapon: Metal Knuckles
Value:  1350
Stats:  ATK 140  INT 0  DEF 0  AUGMENT 3
Where To Find / How To Craft: Shops, Synthesis
Weapon: Gauntlets
Value:  2250
Stats:  ATK 170  INT 0  DEF 0  AUGMENT 6
Element:  DEF +5
Where To Find / How To Craft: Shops
Weapon: Mechanical Fists
Value:  3150
Stats:  ATK 210  INT 0  DEF 0  AUGMENT 6
Element:  Critical Hit +5%
Where To Find / How To Craft: Shops,
Weapon: Slasher Claws
Value:  4500
Stats:  ATK 240  INT 0  DEF 0  AUGMENT 6
Where To Find / How To Craft: Shops
Weapon: Damask Knuckles
Value:  5400
Stats:  ATK 260  INT 0  DEF 0  AUGMENT 6
Element:  Earth Elemental
Where To Find / How To Craft: Weapon Crafted, Synthesis
Weapon: Fragmenters
Value:  6300
Stats:  ATK 300  INT 0  DEF 8  AUGMENT 6
Element:  DEF + 10
Where To Find / How To Craft: Shops
Weapon: Cesti of Torment
Value:  8100
Stats:  ATK 360  INT 0  DEF 0  AUGMENT 7
Where To Find / How To Craft: Shops, Synthesis
Weapon: Vermilion Claws
Value:  13050
Stats:  ATK 380  INT 0  DEF 0  AUGMENT 6
Where To Find / How To Craft: Weapon Crafted
Weapon: Hunting Bow
Value:  18000
Stats:  ATK 410  INT 0  DEF 0  AUGMENT 7
Where To Find / How To Craft: Shops, Synthesis
Weapon: Hurricane Claws
Value:  27000
Stats:  ATK 430  INT 20  DEF 0  AUGMENT 6
Element:  Wind Elemental
Where To Find / How To Craft: Weapon Crafted
Weapon: Mythril Gauntlets
Value:  36000
Stats:  ATK 580  INT 0  DEF 15  AUGMENT 8
Where To Find / How To Craft: Shops, Weapon Crafted
Weapon: Tiger Fangs
Value:  45000
Stats:  ATK 770  INT 0  DEF 0  AUGMENT 6
Element:  +20% Against Beasts
Where To Find / How To Craft: Treasure Chest, Weapon Crafted
Weapon: Feral Claws
Value:  54000
Stats:  ATK 880  INT 0  DEF 0  AUGMENT 6
Where To Find / How To Craft: Synthesis
Weapon: Bloody Knuckles
Value:  72000
Stats:  ATK 1350  INT 50  DEF 0  AUGMENT 6
Element:  Absorbs 3% Health
Where To Find / How To Craft: Synthesis, Treasure Chest
Weapon: Kaiser Knuckles
Value:  81000
Stats:  ATK 1800  INT 0  DEF 0  AUGMENT 8
Element:  Attack +5%
Where To Find / How To Craft: Treasure Chest, Weapon Crafted
Weapon: Immolating Fangs
Value:  90000
Stats:  ATK 2200  INT 200  DEF 0  AUGMENT 7
Element:  Critical Hit +30%
Where To Find / How To Craft: Treasure Chest, Weapon Crafted
STAR OCEAN INTEGRITY AND FAITHLESSNESS GUIDE HUB
[the_ad id="6731"]