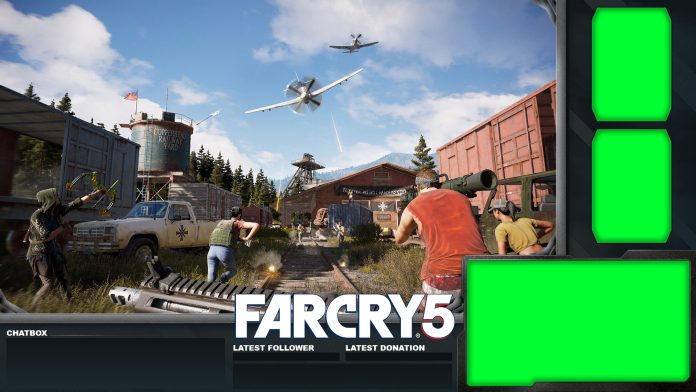 At Chaos Hour we understand that home Streaming to websites such as Youtube, Twitch and others has become more and more popular over the last 5 years. We pride ourselves on being able to deliver to our readers the essentials for them to begin their own path to streaming online and sharing their gaming experiences with others. With the release of FARCRY 5 we have taken that extra step and released a free Overlay for gamers all around the world to use free of charge.
This overlay grants the Streamer or Youtuber a professional design which will compliment your gaming skills, charm or comedic value and further enrich your stream. This in turn will provide a much more quality and enjoyable experience to your viewers. This FARCRY 5 Overlay has been crafted with the following features in mind.
Large FARCRY 5 Display
It's important for all Streamers to understand that the Gameplay is the essential component to any successful stream. Ensure that your viewers can see the game and see it big. This allows your viewers to become engaged in what you're playing and feel immersed into the action. This overlay has been made with that in mind. It features a large area for you to display FARCRY 5 in a large format.
GUIDE : FARCRY 5 Recording and Streaming Guide
The Resolution of the view box is set to 1920×1080 reduced which is the standard Widescreen HD Format. You should have no problems in scaling down or up your input source of your gameplay. Ensure that your stream is running either 30 FPS or 60 FPS if your gaming rig can handle it. The smoother experience for your viewers the better.
Integrated Webcamera Display
The personal touch is important to any popular Stream, especially when connecting with your viewers. The integrated web camera display has been placed to not disturb your viewers from being connected to the action. meanwhile granting you a large area in which you can show your lovely face on the camera. Afterall if your stream does not feature a web-camera then their is no link between viewer and streamer.
RELATED : Affordable Cheap Web Cameras For Streaming 2017
It's a given that streams which feature a web-camera are far more successful in gaining viewers than streams without.
Advertising Boxes
This FARCRY 5 Overlay has been made with the possibility of earning revenue and money from your streaming efforts. If you're looking to give your stream the professional feel, while having the option to earn advertising revenue from publishers and advertisers then an Add box or two on your overlay is important. This gives you space in which you can sell to potential advertisers to make their brand more known. It's important that if you're going to sell advertising space on your stream that it is connected to your niche and targeted audience.
For example if you're into your gaming then seek adverts for tournaments, gaming equipment, other games and hardware. Try to avoid advertising products which are simply not used by your target audience as it will de-value your stream and your efforts. Motion graphics for your adverts also help so keep it quick and keep it fresh.
On Screen ChatBox Tab
While playing FARCRY 5 you may want to get more connected with your viewers. Always be sure to reply to chat when possible as viewers are engaged more if you answer their questions or comments. Always be polite and never allow trolls or dis-respectful people to ruin your experience. For those viewers who'd rather watch at full-screen but not miss out on the chat experience then the On-Screen Chatbox is perfect.
RELATED : Tutorial : How To Embed Chat Box Into Your Stream
On Screen Latest Follower / Donation Tab
This FARCRY 5 Overlay has been designed for you to still have the ability to pay thanks to those on Twitch, Youtube or other stream websites which follow, donate and subscribe to you. You can simply setup the notifications via your streaming software such as XSplit or OBS. Treat your followers with kindness and they will continue to watch and support your streaming which will in-turn grow your viewership. Remember when users follow your stream they will be notified everytime you're online and you will be much easier to find when you're streaming.
OVERLAY : FREE FARCRY 5 OVERLAY DOWNLOAD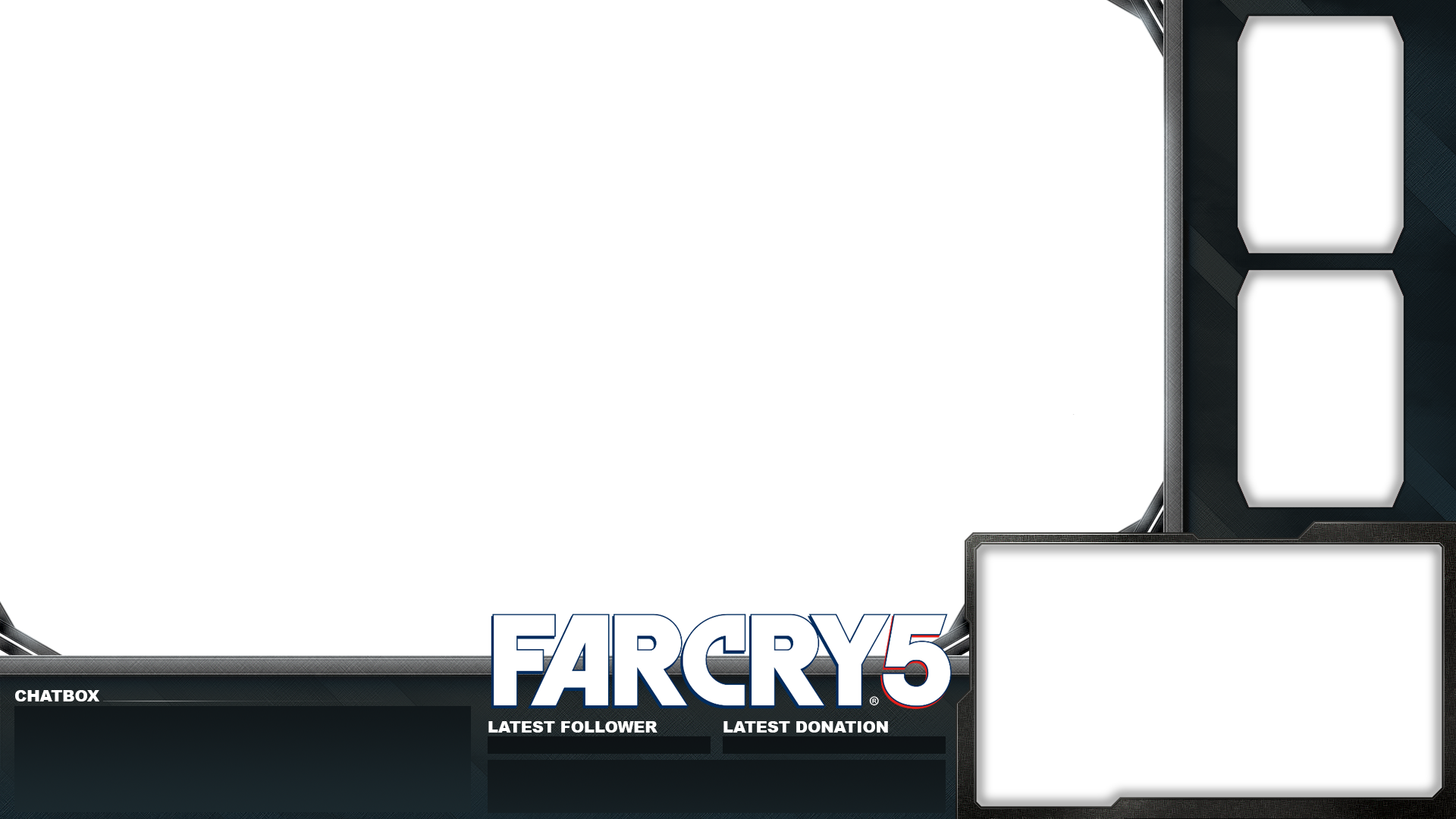 If you're interested in how to use this FARCRY 5 Stream Overlay then we can guide you through the process.
How to Use The Free FARCRY 5 Overlay in XSplit Broadcaster V 2.9
Right Click The Above Picture.
Save As > Select a Save Name & File Location.
As you can see the FARCRY 5 Overlay is a PNG file which carries over the Transparency of the background through to XSplit. Once you load up XSplit create a brand new Scene for your FARCRY 5 Stream.
Along the bottom of XSplit Broadcaster you will see "Add" Click this to "Add > (Media File, Image, Video Etc)".
Choose your newly saved FARCRY 5 Overlay and then place the image file on the top layer above your Gameplay & Webcamera. This will now act as an image which is locked into place above your content while enriching and further engaging your viewers on Twitch, Youtube or any other streaming website you choose to use.
Ensure that your Image file is full screen. The Overlay which we have made for you has been created at the HD resolution of 1920×1080 which will be perfect for HD Streaming. If you have any concerns or questions on how to further enrich your stream, gain more viewers or simply setting up your stream please comment below and we can help.
How to Use The Free FARCRY 5 Overlay in OBS Studio 19.0.2
Right Click The Above Picture.
Save As > Select a Save Name & File Location.
Similar to XSplit Broadcaster the PNG file carries the transparancy layer over to Open Broadcast Software which will allow you to layer your content below the overlay.
Along the bottom of OBS Studio you will see a "Scenes" and "Sources" Panel. Click the rather large "+" under "Sources" and then click image file. This will give you access to your FARCRY 5 Overlay.
Once the Image has been layered, ensure that your Overlay file is now ontop of all other content. This includes all Gameplay files and Webcamera sources. One last reminder – Ensure that your Image file is locked to full screen and is constraining its original resolution. The PNG file is 1920X1080 and will allow for full HD Streaming to Twitch or Youtube using Open Broadcaster Software.
Free Transparent Notification Overlays For OBS & Twitch / Stream Labs & More
At Chaos Hour we're pretty dedicated in making sure everyones streaming experience is a pretty fun and enjoyable one. Not just for you but for your viewers. This is why along with your FARCRY 5 overlay we have created some quick and free notification overlays which can alert you and your viewers when events happen on your Stream.
Below you will see the Notification alerts in all their glory. Each File is a high quality Animated PNG which carries the transparency of the motion video above it. Perfect for pairing it up with Streamlabs or other streaming software.
Custom FARCRY 5 Overlays & Notifications
We understand that the competition on Twitch, Youtube and other websites is constantly evolving. This is why at Chaos Hour we also offer a service to creating unique and custom overlays for you and your stream regardless of the game that you play. These Custom overlays which we offer will further empower your stream and give value back to your viewers to keep them entertained. We have a vast knowledge of multimedia so we can deliver not only static but motion graphics to allow you to deliver an unforgettable and addictive experience to your viewers.
So why wait? Start earning from your Twitch, Youtube Videos and Streams today by ensuring that you're quality of stream and online presence is professional and addictive for your viewers.
Below you will see the various packages which we offer at a competitive and affordable price.
[the_ad id="6731"]