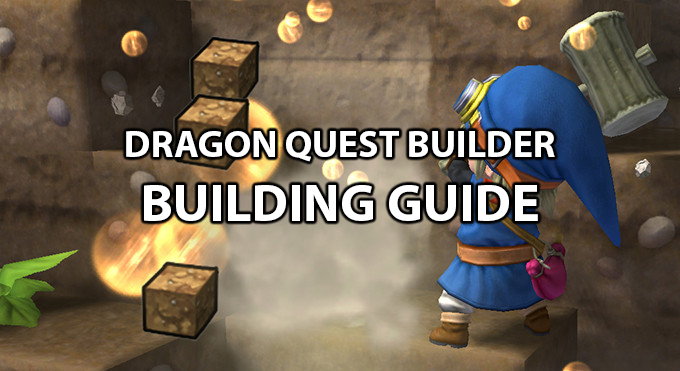 Within Dragon Quest Builders is a huge Array of versatile building blocks and materials which you can use to create weird and wonderful buildings for your citizens. You have to first off locate and mine Ore Veins or the relevent materials required to build stuff. Once you have mined the required amounts for your building blocks and crafting then you're ready to build.
Merge your items together with the required materials and then you will be able to create bigger and better homes for your world. Dragon Quest Builders allows you to challenge your imagination as almost any structure is available to be built. Below is a comprehensive list of all the available materials within Dragon Quest Builders. It also contains the requirements for certain building blocks and other items.
If you're looking for a particular material then please be sure to check our other Dragon Quest Builder guides on what materials and elements are available for your equipment, items, materials, weapons and more. Happy Building!
RAW MATERIALS
DRAGON QUEST BUILDERS RAW BUILD MATERIALS IN GAME.
Ash
Bloodstone
Bonestone
Broken brickwork
Castle battlement
Chalk
Clay block
Clodstone
Crumbly clodstone
Earth block
Fortress battlement
Fortress foundation
Fortress wall
Ice block
Lava
Obsidian
Pebblestone
Poisonous peat
Sand block
Sandstone
Sandy sandstone
Snow
DRAGON QUEST BUILDERS RAW MATERIAL ORE VEINS WITHIN GAME.
Basalt block
Coal vein
Copper vein
Gold vein
Iron vein
Mythril vein
Orichalcum vein
Ruby vein
Silver vein
Zenithium vein
Basalt block
Coal vein
Copper vein
Gold vein
Iron vein
Mythril vein
Orichalcum vein
Ruby vein
Silver vein
Zenithium vein
Basalt block
Coal vein
BUILDINGS
DRAGON QUEST BUILDERS BUILDING BLOCKS / WINDOWS / DECORATIONS
Block Name / Type / How To Create
| | | |
| --- | --- | --- |
| Arched window | Windows | Carpenter's workstation, miner's refiner, Builder's workbench |
| Beige block | Buildable Blocks | Colour wheel |
| Black block | Buildable Blocks | Colour wheel |
| Blue block | Buildable Blocks | Welder's workbench, colour wheel |
| Blue flagstone | Buildable Blocks | Forge, furnace |
| Blue temple tile | Buildable Blocks | Diviner's altar |
| Brick wall | Buildable Blocks | Forge, furnace |
| Bronze temple tile | Buildable Blocks | Diviner's altar |
| Burgundy block | Buildable Blocks | Colour wheel |
| Buttress | Exterior Decorations | Forge, furnace |
| Carved castle tile | Buildable Blocks | Furnace |
| Castle battlement | Buildable Blocks | Forge, furnace |
| Castle crenellation | Buildable Blocks | Forge, furnace |
| Castle foundation | Buildable Blocks | Forge, furnace |
| Castle tile | Buildable Blocks | Furnace |
| Castle wall | Buildable Blocks | Forge, furnace |
| Cell door | Doors | Welder's workbench, machinist's workbench |
| Chimney | Roofing | Mason's workstation, machinist's workbench |
| Cyan block | Buildable Blocks | Colour wheel |
| Fancy carpet | Buildable Blocks | Builder's workbench, sewing station |
| Flagstone | Buildable Blocks | Forge, furnace |
| Green block | Buildable Blocks | Colour wheel |
| Grey block | Buildable Blocks | Colour wheel |
| Hardwood capital | Buildable Blocks | Miner's refiner, Builder's workbench |
| Hardwood column | Buildable Blocks | Miner's refiner, Builder's workbench |
| Hardwood pedestal | Buildable Blocks | Miner's refiner, Builder's workbench |
| Hardwood tile | Buildable Blocks | Carpenter's workstation |
| Hot water crystal | Water Crystals | Miner's refiner, machinist's workbench |
| Inner corner tiling | Roofing | Carpenter's workstation, Builder's workbench |
| Lime-green block | Buildable Blocks | Colour wheel |
| Magic door | Doors | Machinist's workbench, furnace |
| Mini merlon | Exterior Decorations | Forge, furnace |
| Navy block | Buildable Blocks | Colour wheel |
| Orange block | Buildable Blocks | Colour wheel |
| Outer corner tiling | Roofing | Carpenter's workstation, Builder's workbench |
| Pink block | Buildable Blocks | Colour wheel |
| Pitched tiling | Roofing | Carpenter's workstation, Builder's workbench |
| Porched window | Windows | Carpenter's workstation, miner's refiner, Builder's workbench |
| Purple block | Buildable Blocks | Colour wheel |
| Purple flagstone | Buildable Blocks | Forge, furnace |
| Red block | Buildable Blocks | Colour wheel |
| Red carpet | Buildable Blocks | Builder's workbench, sewing station |
| Ridge tiling | Roofing | Carpenter's workstation, Builder's workbench |
| Roof tiling | Roofing | Carpenter's workstation, Builder's workbench |
| Saloon door | Doors | Carpenter's workstation, mason's workstation, miner's refiner, Builder's workbench |
| Silver block | Buildable Blocks | Colour wheel |
| Steel doors | Doors | Machinist's workbench, furnace |
| Stone capping | Exterior Decorations | Mason's workstation, machinist's workbench |
| Stone coping | Exterior Decorations | Mason's workstation, machinist's workbench |
| Stone foundation | Buildable Blocks | Forge, furnace |
| Stone wall | Buildable Blocks | Forge, furnace |
| Stone window | Windows | Mason's workstation, machinist's workbench |
| Straw door | Doors | Mason's workstation, miner's refiner, Builder's workbench, carpenter's workstation |
| Straw floor | Permanent Block Modifiers | Mason's workstation, Builder's workbench |
| Tiled window | Roofing | Carpenter's workstation, Builder's workbench |
| Timbered capital | Buildable Blocks | Miner's refiner, Builder's workbench |
| Timbered foundation | Buildable Blocks | Miner's refiner, Builder's workbench |
| Timbered wall | Buildable Blocks | Miner's refiner, Builder's workbench |
| Water crystal | Water Crystals | Carpenter's workstation, machinist's workbench |
| White block | Buildable Blocks | Colour wheel |
| Window | Windows | Mason's workstation, machinist's workbench |
| Wooden door | Doors | Carpenter's workstation, mason's workstation, miner's refiner, Builder's workbench |
| Wooden floor | Buildable Blocks | Carpenter's workstation, Builder's workbench |
| Wooden wall | Buildable Blocks | Carpenter's workstation, Builder's workbench |
| Yellow block | Buildable Blocks | Colour wheel |
DRAGON QUEST BUILDERS BUILDING BLOCKS GUIDE & REQUIREMENTS
Building Block / Type / Description
| | | |
| --- | --- | --- |
| Beige block (x30) | Chalk | A chunk of chalk dyed a boring beige. |
| Black block (x30) | Chalk | A chunk of chalk dyed a bold black. |
| Blue block (x30) (Free Play) | Chalk | A chunk of chalk dyed a bright blue. |
| Blue block (x10) (Chapter 3) | Ice (x3), power crystal | A chunk of chalk dyed a bright blue. |
| Blue flagstone (x10) | Stone (x5), magic dye, blue goo | Cobblestones cobbled together, then dipped in blue dye. |
| Blue temple tile (x10) | Stone (x3), holy water, magic dye | A consecrated cube covered with a pattern of spiritual significance. |
| Brick wall (x10) | Clay (x5), coal | Kiln-fired clay bricks bound into blocks to form a convenient construction material. |
| Bronze temple tile (x10) | Stone (x3), septic shrub, magic dye | Mystical markings decorate this divine block. |
| Burgundy block (x30) | Chalk | A chunk of chalk dyed a noble burgundy. |
| Carved castle tile (x10) | Stone (x3), iron ingot, magic dye | A polished purple cube covered with complex carvings. |
| Castle battlement (x10) | Stone (x3), iron ingot | Perfectly polished and uniformly arranged segments of stone designed to crown a castle wall. |
| Castle crenellation (x10) | Stone (x3), iron ingot | The classy capital of castle wall, made from perfectly polished and uniformly arranged segments of stone. |
| Castle foundation (x10) | Stone (x3), iron ingot | The firm footing of a castle wall, made from perfectly polished and uniformly arranged segments of stone. |
| Castle tile (x10) | Stone (x3), iron ingot, magic dye | A polished purple cube that's fit for a king. |
| Castle wall (x10) | Stone (x3), iron ingot | A block of magnificent masonry made from perfectly polished and uniformly arranged segments of stone. |
| Cyan block (x30) | Chalk | A chunk of chalk dyed a striking cyan. |
| Fancy carpet (x10) | Shot silk (x2), finest fur, gold | Classy carpeting with a pretty, patterned pile. |
| Flagstone (x10) | Stone (x3), coal | Rough rocks, smoothed flat and fused flush, form this old-fashioned flooring. |
| Green block (x30) | Chalk | A chunk of chalk dyed a grassy green. |
| Grey block (x30) | Chalk | A chunk of chalk dyed a grim grey. |
| Hardwood capital (x10) | Wood (x3) | A well-crafted wooden block to cap off a tasteful timber pillar with class. |
| Hardwood column (x10) | Wood (x3) | A wooden block that stacks to form the chic shafts of tasteful timber pillars. |
| Hardwood pedestal (x10) | Wood (x3) | A weighty wooden block that serves as a firm foundation for a tasteful timber pillar. |
| Hardwood tile (x10) | Wood (x2) | A classy cube wrought from rich, refined wood. |
| Lime-green block (x30) | Chalk | A chunk of chalk dyed a luminous lime-green. |
| Navy block (x30) | Chalk | A chunk of chalk dyed a midnight navy. |
| Orange block (x30) | Chalk | A chunk of chalk dyed an ardent orange. |
| Pink block (x30) | Chalk | A chunk of chalk dyed a pretty pink. |
| Purple block (x30) | Chalk | A chunk of chalk dyed a princely purple. |
| Purple flagstone (x10) | Stone (x5), magic dye, orange oil | Cobblestones cobbled together, then painted purple. |
| Red block (x30) | Chalk | A chunk of chalk dyed a rich red. |
| Red carpet (x10) | Shot silk (x2), finest fur | A crimson carpet perfect for paving the way for royalty. |
| Silver block (x30) | Chalk, silver | A chunk of chalk dyed a stylish silver. |
| Stone foundation (x10) | Stone (x3), copper ingot, coal | A block of massy masonry designed to build the bases of stout stone walls. |
| Stone wall (x10) (Chapter 1, Free Play) | Stone (x3), copper ingot, coal | A block of massy masonry made of intricately interlocked rocks. Brilliant for building stout stone walls. |
| Straw floor (x10) (Chapter 3) | Grassy leaves (x5), cord (x3) | Dried grass tied together to create a cushiony floor covering. |
| Straw floor (x10) | Sandgrass (x5), cord (x3) | Dried grass tied together to create a cushiony floor covering. |
| Timbered capital (x10) | Stone (x3), wood | A stylish brick block with handsome hardwood highlights designed to top off a cottage wall. |
| Timbered foundation (x10) | Stone (x3), wood | A stylish brick block with handsome hardwood highlights designed to underpin a cottage wall. |
| Timbered wall (x10) | Stone (x3), wood | A stylish brick block with handsome hardwood highlights designed to build a cottage wall. |
| White block (x30) | Chalk | A chunk of chalk dyed a wintry white. |
| Wooden floor (x10) | Wood (x5) | Planed and polished lumber formed into flush-fitting floorboards. |
| Wooden wall (x10) | Wood (x5) | A block of perfectly planed wooden planks. |
| Yellow block (x30) | Chalk | A chunk of chalk dyed a mellow yellow. |
DRAGON QUEST BUILDERS BUILDING BLOCK MODIFIERS GUIDE
Block Name / Requirements / Description
| | | |
| --- | --- | --- |
| Blue flagstone flooring (x5) | Blue flagstone (x3) | Changes nearby earth floors into blue flagstone blocks. |
| Brick cladding (x5) | Brick wall (x3) | Changes nearby earth walls into brick wall blocks. |
| Castle cladding (x5) | Castle wall (x3) | Changes nearby earth walls into castle wall blocks. |
| Castle tiling (x5) | Castle tile (x3) | Changes nearby earth floors into castle tile blocks. |
| Flagstone flooring (x5) | Flagstone (x3) | Changes nearby earth floors into flagstone blocks. |
| Purple flagstone flooring (x5) | Purple flagstone (x3) | Changes nearby earth floors into purple flagstone blocks. |
| Red carpeting (x5) | Red carpet (x3) | Changes nearby earth floors into red carpet blocks. |
| Stone cladding (x5) | Stone wall (x3) | Changes nearby earth walls into stone wall blocks. |
| Straw flooring (x5) | Straw floor (x3) | Changes nearby earth floors into straw floor blocks. |
| Timbered cladding (x5) | Timbered wall (x3) | Changes nearby earth walls into timbered wall blocks. |
| Wooden cladding (x5) | Wooden wall (x3) | Changes nearby earth walls into wooden wall blocks. |
| Wooden flooring (x5) | Wooden floor (x3) | Changes nearby earth floors into wooden floor blocks. |
BUILDING MATERIALS
DRAGON QUEST BUILDERS BUILDING MATERIALS – HOW TO CRAFT
Building Name / Type / Requirements / Description
| | | | |
| --- | --- | --- | --- |
| Hot water crystal | Lava (x5), silver | A bizarre block from which steaming springwater streams. | Acts as a source of hot water when placed below ground level. |
| Water crystal | Water (x10), silver | A curious cube from which water freely flows. | Acts as a source of water when placed below ground level. |
| | | |
| --- | --- | --- |
| Chimney | Brick wall | A functional flue designed to expel smoke. |
| Inner corner tiling (x10) | Brick wall, magic dye, wood | A concave sheet of tiles used to build the inner edges of pitched roofs. |
| Outer corner tiling (x10) | Brick wall, magic dye, wood | A convex sheet of tiles used to build the outer edges of pitched roofs. |
| Pitched tiling (x10) | Brick wall, magic dye, wood | A sheet of tilted tiles used to build pitched roofs. |
| Ridge tiling (x10) | Brick wall, magic dye, wood, stone | A curved cap to crown the ridges of roofs. |
| Roof tiling (x10) | Brick wall, magic dye, wood | A sheet of slate tiles used to build flat roofs. |
| Tiled window (x10) | Brick wall, magic dye, wood, glass | A stylish skylight that makes an at |
| | | | |
| --- | --- | --- | --- |
| Cell door | Steel ingot (x2) | A steely dungeon door with unbreakable bars. | Can be opened and closed. |
| Magic door | Steel ingot, magic dye | Sheets of steel soldered together and painted bright red. | Can be opened and closed. |
| Saloon door | Wood, broken branch | Pianos stop playing when these trendy timber doors swing open. | Can be opened and closed. |
| Steel doors | Steel ingot (x6), magic dye | Massive double doors made solely out of steel. | Can be opened and closed. |
| Straw door (Chapter 1,Free Play) | Grassy leaves (x3), broken branch | A primitive door made of sticks and straw. | Can be opened and closed. |
| Straw door (Chapter 2) | Strong stalks (x3), broken branch | A primitive door made of sticks and straw. | Can be opened and closed. |
| Straw door (Chapter 3) | Sandgrass (x3), broken branch | A primitive door made of sticks and straw. | Can be opened and closed. |
| Wooden door (Chapter 1, 3, Final, Free Play) | Wood (x2), iron ingot | A durable door made from wooden planks reinforced with iron. | Can be opened and closed. |
| Wooden door (Chapter 2) | Wood (x2), rusty nuggets | A durable door made from wooden planks reinforced with iron. | Can be opened and closed. |
| | | |
| --- | --- | --- |
| Arched window (x5) | Wood (x3) | A small wooden window with a curvilinear lintel. |
| Porched window (x5) | Wood (x3) | A small wooden window with an overhanging lintel. |
| Stone window (x5) | Stone (x3) | A sturdy stone window that only lets in a little light. |
| Window | Glass, wood | A window made from sticks and some strange, see-through stuff. |
| | | |
| --- | --- | --- |
| Buttress (x5) | Stone (x3), copper ingot, coal | A stone support used to shore up brick bulwarks. |
| Mini merlon (x10) | Stone (x3), iron ingot | A frustum-shaped segment of stone designed to trim the top of a tower. |
| Stone capping (x10) | Stone (x3) | A stylishly spherical stone sculpture. |
| Stone coping (x10) | Stone (x3) | A semi-cylindrical stone sculpture. |
[the_ad id="6731"]